Shrinking Swiss glacier hosts world's largest postcard
The snow-capped majesty of the Swiss Alps has dazzled many a tourist. And on Friday, the region played host to the planet's largest postcard.
Laid out on the shrinking Aletsch Glacier, this huge mosaic is actually made from 125,000 drawings and messages about climate change.
They measure 2,500 sq m (26,910 sq ft), and were created by children from all over the world.
"WE ARE THE FUTURE GIVE US A CHANCE," urged one poster, standing out against the snow.
Seen from above, the whole picture read: "STOP GLOBAL WARMING #1.5 DEGREES C" – echoing scientists' calls to limit the rise in Earth's temperature.
The high-altitude showcase was organised by the WAVE foundation, a non-profit group focused on conservation, and Switzerland's development agency.
According to WAVE, the event set a new Guinness World Record for the most postcards tied into a single image – smashing the existing 16,000 card record.
Organisers chose the Aletsch Glacier to raise awareness, because it is melting at alarming speed.
Glaciology experts from the University of Zurich have warned that the great ice expanse, the largest in western Europe at 23km (14.3 miles), could disappear altogether by 2100.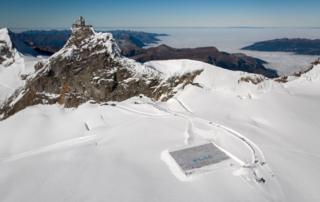 All images subject to copyright